DICK TWO TON BAKER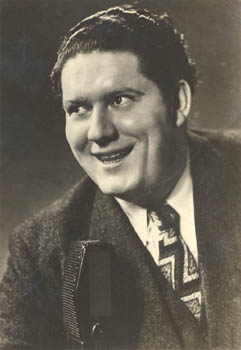 The Music Maker of Chicago
Part 1
Dick Baker was a big man in Chicago.
Of course, at 6'2" and 350 pounds, he'd have been a big man anywhere. But he was born in Chicago on May 2, 1916, and was in front of the public there in bands, in night clubs, on radio and on television for nearly fifty years. His recordings for Mercury and his nationally syndicated radio show in the late 1940s won him fans from coast to coast.
The cliche of the jolly fat man could well have started with Dick Baker. By all indications he was a thoroughly pleasant and contented person who was happy with his lot in life and who radiated that happiness to others. "The only thing I've ever wanted to do in this world," he said in a 1949 interview in the Chicago Tribune, "is play the piano and sing on the radio. This isn't work, it's play--and I'm getting paid for it! . . . I like to think my radio show helps make people a little more friendly. The world is full of petty stings. I hope my monkeyshines and songs make people forget the barbs for a little while."
Child Prodigy
In interviews from the late 1940s until as late as 1972, Baker described his start in music quite consistently: "It all started when I was three. I always stood beside my mother and banged along on the piano when she played church music. Once, when she was out, I was plucking away at 'Yankee Doodle' and my uncle thought it was her!"
By the time he was four, "little Dick" (needless to say, the "Two Ton" nickname came later) was accompanying his mother, a semiprofessional singer, at church, Knights of Columbus and other fraternal doings, playing jazz and popular music of the day. A year in a harmony class in high school was the extent of his musical training. "I never had lessons," Two Ton confessed, "but the Lord blessed me with a good ear."
His first band, and perhaps the only one he led himself, came a few years later: "I was 11 or 12, living in Berwyn, playing with neighborhood orchestras at ethnic doings and fund-raising events when we formed a group called Dick Baker and His Hot Buns," he said. "We played all around the west towns area."
By the time he got to high school, he was playing piano in various bands and even cutting school to go on road trips with groups such as the Royal Ambassadors, a 14-piece stage band. He also played vaudeville houses in something called the "Charlie Mack reviews," presumably managed by famed vaudevillian Charlie Mack.
This photo was sent by Joseph Bukovsky, Jr., son of the trombonist at right,
who recalled only that his father "spent at least one season traveling the eastern
seaboard with Dick" in the 1930s. Indeed, an old autograph book of Two Ton's
shows that he and Joe Bukovsky were in shows called "Melody Rambles" and
"Tick Tock Revue" in 1933–4. Which explains all the clocks.
---
Return to Two Ton Baker home page