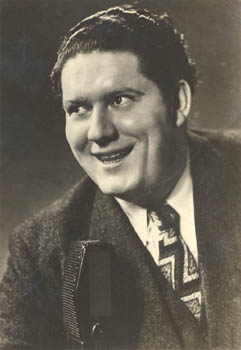 Dick "Two Ton" Baker was a giant -- literally and figuratively -- on the Chicago entertainment scene for nearly four decades, from the late 1930s until his death in 1975. He played piano quite well and sang in a pleasing, infectious baritone voice, but mainly, he entertained, in whatever medium. He had several popular radio shows on on the Chicago Tribune's flagship station, WGN, one of which went out nationwide over the Mutual network. He was on the first television broadcast on WGN-TV (April 5, 1948), and later had very popular children's programs on that and other Chicago TV stations.
I am not related to Two Ton Baker--we just share the same name and the same propensity for plumpness. I've been collecting Two Ton Baker records and a few memorabilia items since the mid-1970s, when I first learned of his existence, but I never really learned much about him until late 2003, when I found my way into the archives of the Chicago Tribune, and from there to his daughter, a recently retired Chicago schoolteacher. Finally, I've gathered enough information, photographs, and recordings to document the life of this genial giant of an entertainer in the modern medium of choice, a web site.
If any other collectors have stumbled onto this page, I urge them to share their recordings and other materials with me -- and I will reciprocate.